90 Minute Tapping Session
90 Minute Tapping Session
If you haven't experienced a Tapping Session you are in for a treat!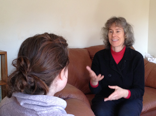 Tapping is a mind body tool that calms the stress response. It is clinically proven to reduce cortisol levels and eliminate PTSD, anxiety, phobias and pain as well as enhance weight loss and athletic performance.
In this private and confidential session, we will hone in on the problem at hand. It can be anything that's bothering you. Tapping will help you get to the root, gain clarity, bring down the pain and unwanted emotions and obtain resolution.
Click this link or call/text now to set up an appointment.